Recipes
Butterfly Tails (Lobster tail meat)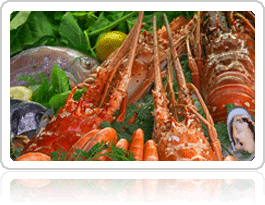 One delicious way of preparing a wonderfull dish with lobster tails is to BBQ it. Follow these steps to experience gourmet quality lobster.
Ingredients
Caribbean Queen lobster tails
Lemon Juice
Salt
White pepper
Vegetable oil
Sauce
Steps
Thaw lobster tails and cut meat lengthwise on the top to split the tail in two halves, taking care not to separate in two pieces.
With the palm of the hand, beat it softly to spread the meat into "Butterfly wings".
Marinate in lemon juice, salt, white pepper and vegetable oil.
Heat oven to 450 Fahrenheit degrees and bake the tails for five minutes.
Cover with desired sauce and enjoy.