Recipes
Cuban Rock Lobster Rizotto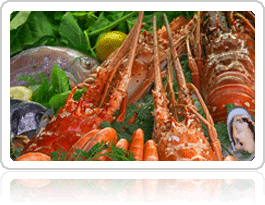 Ingredients
2 Caribbean Queen rock lobster. Take out the meat from the shells and dice ¼ to ½ inch pieces. Set aside shells and diced meat.
1 small onion, diced dash of garlic powder or ¼ teaspoon fresh garlic
1 teaspoon paprika
4 oz. butter
1 ripe peeled tomato chopped
1 bay-leaf
4 oz. water
1 tablespoon chopped parsley
2/3 cup grated parmesan cheese
2 cups boiled rice
Salt and pepper to taste
Optional:
8-12 fresh Caribbean Queen shrimps, or
½ cup of diced mushroom or
½ lb. scallops or
1 can 8 oz. mussels or if you wish, all of them for approximately 1 to ½ cups total
Steps
In a casserole, heat up the butter. When warm, add onion and garlic.
Cook for a few minutes until onion is transparent, soft but not brown.
Stir in the tomato, paprika, bay-leaf and parsley, boil 2 more minutes.
Add 4 oz. of water and if any of the optional items are used, shrimps, scallops or mussels – reduce to a low fire until most of the liquid in the pan evaporates and the mixture is thick enough to hold its shape lightly on the spoon.
Add the diced lobster meat, 1/3 cup of the cheese and the 2 cups of boiled rice.
Mix slowly and smoothly all ingredients, add salt and pepper if needed.
Fill up your shells with mixture, top with 1/3 cup of the remaining cheese and bake in a 450-475 degrees oven for 6 to 10 minutes.
Serve and enjoy