Recipes
Cuban Rock Lobster Thermidor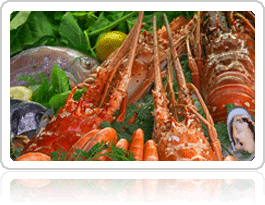 Ingredients
One Caribbean Queen whole cooked for two persons.
8 ounces Bechamel sauce
1 teaspoon of paprika
¼ cup of sherry or white wine
1/3 cup of sliced mushrooms
3 drops of Tabasco sauce
¼ teaspoon of Worcestershire sauce
¼ cup of ground parmesan cheese
Salt and pepper to taste
1/3 cup of ground parmesan cheese
Steps
Separate meat from shell and dice.
Make a simple white cream sauce Bechamel. To save work and time, several made brands are available at your favourite super market, add only milk or water to base.
When sauce is boiling slowly, add paprika, wine, mushrooms, Tabasco sauce, Worcestershire sauce, salt and pepper.
Simmer 5 to 7 minutes, stirring occasionally until flavours blend.
Add diced lobster meat and simmer two more minutes.
Refill the shells with the prepared ingredients.
Spread over evenly 1/3 cup of ground parmesan cheese and bake at 450 to 475 degree oven for 5 minutes, or put under broiler until the cheese melts and you have acquired the desired colouring.
Serve and enjoy