Recipes
Old Havana Lobster (Exotic Style!)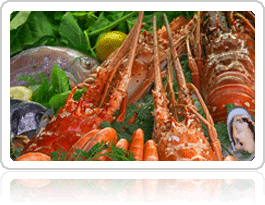 One delicious way of preparing a wonderfull dish with lobster tails is to BBQ it. Follow these steps to experience gourmet quality lobster.
Ingredients
4 Caribbean Queen lobster tails
1 large onion
1 green pepper
2 cloves garlic
1 10 oz. can peeled tomatoes
1 cup vegetable oil
6 large mushrooms
2 juice of lemons
¼ cup white dry wine
Hot chili sauce, paprika, salt and pepper
Steps
Thaw lobster tail or tail meat and cut in rings, saving the fans for decoration. Add salt, pepper and lemon juice. Brown lobster in half cup of vegetable oil. Brown garlic cloves in rest of oil, add chopped onion and diced green pepper.
Add paprika, tomatoes and mushrooms. Season with salt, pepper and hot chili sauce to taste. Combine with lobster. Let simmer for 8 to 10 minutes.
Serve and enjoy.